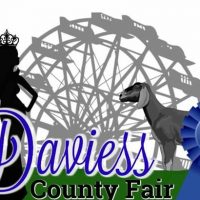 The Daviess County Fair opens up tonight in Elnora.
Starting at 5:30 tonight, the fair parade will kick off events at the fair. It's the first parade for the fair since 2016.
Carnival rides get underway starting at 6 PM.
Finally, the Queen contest gets underway at 8 PM tonight. Tori Clifford, Anna Barber, Avery Sullivan, Lauren Boyd, Peyton Summers, and Emily Ramsey are the Queen Candidates.
Arena events are scheduled for Wednesday thru Saturday. Hot Rod Garden Pulls are scheduled for Wednesday night. Thursday features Bone Stock Car and Mini Stock Car races. Friday night, Full Throttle Monster Trucks take the grandstand by storm and on Saturday, the Demo Derby will highlight the events going on at the fair.
The Little Mister and Misses Contest is scheduled for 6 PM Wednesday
The Baby Contest is scheduled for 6 PM on Saturday.