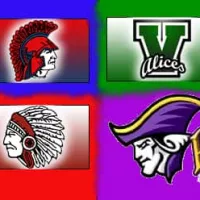 (Soccer– Rivet defeats SK)
The Vincennes Rivet girl's soccer team trimmed South Knox 3-2 in Blue Chip Conference play.  Lissa
Willis had two goals for the Patriots while Emma Stein had the other.  Goalkeeper Alli Stearns added 
nine saves.  Delaney Foley and Meg Phegley had the South Knox goals.  
(Tennis)
The Lincoln Boys Tennis team defeated both Evansville Central and Bosse in a rare SIAC doubleheader.
The Alices beat the Bears 5-0 with singles wins coming from Gus McCrary, Josh Clegg, and Luke Hall.
Also winning in doubles play were Cayden McCrary and Jayden Ray and the tandem of Brett Turpin
Lincoln was also a 5-0 winner over Bosse.  Jayden Ray and Cayden McCrary won in singles play while 
Dayton Piper and Michael Watry were doubles winners along with Luke Newman and William Burgess.
(Volleyball)
The South Knox Volleyball Team was a 3-1 winner over Shakamak.  Addy Delisle had a triple double
of 10 points, 15 kills and 19 assists.  Jaelyn Grumieaux had 29 digs.  Morgan Obermeyer had 14 points
and 13 digs while Caroline Beard had 13 kills.  Shakamak won the JV contest 2-0.
The North Knox Volleyball team beat Wood
Memorial 3-1.  Two North Knox players with quadruple games….Alex McKinley had 18 points, 10 kills, 16 assists and 10 Digs while Brynna Collins had 14 points, 10 kills, 17 assists and 11 digs.  Wood Memorial won the JV contest 2-0.
(Golf)
South Knox golf team finished third in a tri-match at Cypress Hills Golf Course.  Eastern Greene was first
at 211, South Knox 224 and Sullivan 227.  For South Knox, Tori Thompson shot a 46 and Eliza
The Lincoln Golf team beat Forest Park 232-246.  Macy Sexton was medalist for the Alices.  Her score was
(Sports Calendar for Tuesday)
On the local sports scene today…Two top ten Class A Volleyball teams square off a
Holscher Gymnasium as fifth-rated Rivet meets number 8 Loogootee.  JV is at six.  Varsity to
follow and can be seen on line at TOC Network Sports.
The Lincoln Volleyball team plays at Evansville Bosse beginning at six.
The Rivet Boys Soccer team host North Knox at 5pm and that game can be heard on WUZR 105.7fm.
The South Knox Girls Soccer team entertains Pike Central at seven.
The South Knox Boys Soccer team travels to Barr-Reeve for a 5:30 game.
The North Knox volleyball team is at home to North Central for a 6pm start.
And the Girls Blue Chip Conference meet takes place today at High Pointe Country Club at 5pm.
(Area teams' rankings)
Three area teams have received votes in their respective polls.  The Vincennes Lincoln Alices football team
is ranked 13th in this week's IFCA Class 3-A poll.  The Alices are 3-1 on the season.
Vincennes Rivet moves up one spot to fifth in the Class A volleyball poll.  The Lady Patriots
are 13-2 on the year.  And the Vincennes University Volleyball team jumps into the NJCAA Division one
rankings at number 19.  The Lady Blazers are 12-1 on the season.
Middle School Sports
South Knox soccer team beat North Knox 7-6.
Kadee Jeffers and Kane Simmons had two goals apiece for South Knox.
North Knox Golf Team beat Sullivan 145-147.  Caleb Alford had the lowest score for North Knox with a 31.
South Knox 8th grade volleyball team beat North Knox 2-0.  Paige Dugan had seven points.  South Knox won the 7th
grade match 2-1.  Myra Lafferty led the Spartans with nine points.