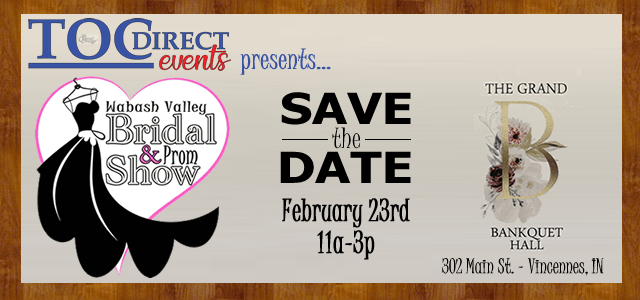 Sunday, February 23rd, 2020, 11 AM – 3PM
The Grand Bankquet Hall  – 302 Main St. Vincennes 
• Bridal and Party related products and services will be on display
• Free to enter, Free parking, Free door prizes
• Sponsored by
  
It's not too late!  Your business can have a booth at the Wabash Valley Bridal Showcase.  Prizes will be given away throughout the event.  Another great crowd of brides, mothers and friends is expected.  This is your opportunity to show your business and services to potential customers face to face!!  Complete the form below to register for the event!
Wabash Valley Bridal Showcase includes: 
–8 x 8 Booth 
–Bridal Fair Booklet with "Business Card" ads
–Multimedia Advertising
–Listing of registered brides with contact information
–Promo ads on WZDM, WWBL, WBTO, WUZR, WTYE, WAOV, WQTY, WTAY, and WJPS
–Live mentions during broadcast on February 23rd
–Plus 24 thirty second ads on WZDM, or WUZR, or WBTO, or WJPS, or WTYE
–Sponsors will be listed (with links if applicable) online at
WZDM, WAOV, WUZR, WWBL, WTYE, WQTY, WBTO, and WJPS sites
Total Investment: $375.00*
Contact Jessica Hallman at Events@OriginalCompany.com to secure your booth!!